SU Votes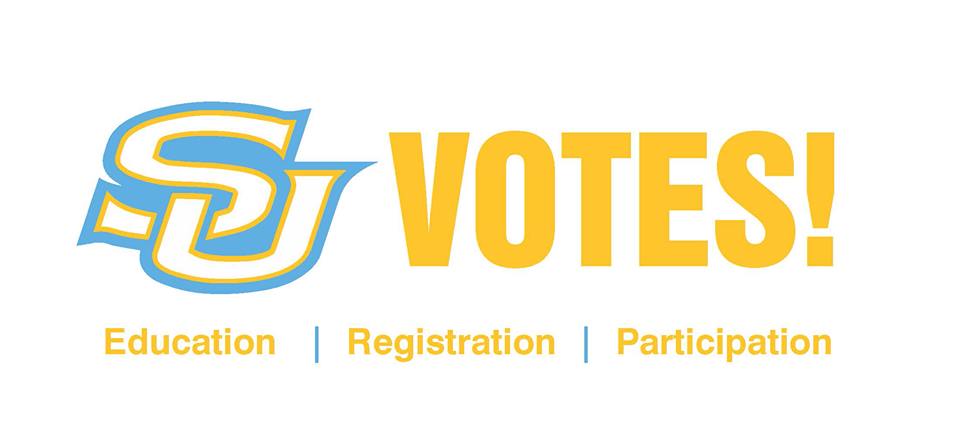 Voting is perhaps the most powerful tool a citizen has to have a voice in choosing leaders and having a say in decisions affecting our communities and daily lives. For the nation's democracy to function properly and for the government to provide fair representation, all eligible Americans must have the opportunity to vote — and be encouraged to do so. As the nation's only Historically Black College and University System in America with a storied history of advocacy and promoting civil rights, the Southern University System continues to encourage, educate, and motivate voter participation through the SU Votes! Initiative for 2019. This year's focus is on engaging the entirety of the SU System to effectuate growth in the number of registered voters, raise the awareness of issues and boost voter participation.
Important Dates for November 16 Election
The deadline to register to vote in person or by mail is Oct. 16.
The deadline to register to vote through the GeauxVote Online Registration System is Oct. 26.
Early voting is Nov. 2-9 (except Sunday, Nov. 3) from 8:30 a.m.-6 p.m.
The deadline to request an absentee by mail ballot is Nov. 12 by 4:30 p.m. You can request an absentee by mail ballot online through the Geaux Vote Voter Portal or in writing through your Registrar of Voters Office (other than military and overseas voters).
The deadline for a registrar of voters to receive a voted mail ballot is Nov. 15 by 4:30 p.m. (other than military and overseas voters).
Ballot by Mail Timeline:
General and Disabled Applications: Applicants must request a ballot by 4:30 p.m. CST on the fourth day before election day.
Military, Overseas or Hospitalized Applications: Military personnel and/or their dependents; U.S. citizens residing outside the U.S.; or voters that are hospitalized must request their ballot by 4:30 p.m. CST on the day before election day.
For more information about voting by mail, click here.
Vote on Campus
Southern University students who are registered to vote in Louisiana with their campus address can vote on campus on Election Day, Saturday, Nov. 16 in the F.G. Clark Activity Center from 7 a.m. to 8 p.m.
Check Voter Status

Ballot Information

Understanding the Amendments
ATTENTION!!!
Voter Precinct Changes
Some voter precincts in Louisiana have recently changed. Please check your mail at the address with which you registered to vote. You should have received a notice from the Office of the Louisiana Secretary of State. Also, go to www.geauxvote.com or download the app on your mobile device to check your voter status, location and ballot information.
Report Problems
Report any problems with your registration status or polling locations to the National Voter Protection Hotline at 866-687-8683.
Inactive Voters
Search the inactive voter list. If your name appears on the list, your voter registration status is inactive because your registration address was not able to be verified by your parish registrar of voters during the annual canvass or correspondence sent to the address on file has been returned undeliverable. If your residential address or the address where you receive mail has changed from the address used when you registered to vote or last changed your voter registration record, please update your residential address on your voter registration record online. You may also change it by mail or in person at your parish registrar of voters.
If you have not changed your address, you are currently eligible to vote but will be required to confirm your address when voting. If you do not confirm your address and you do not vote in any election between the time your name was added to the list and the day after the second regularly scheduled general election for federal office held after such date, your name may be removed from the voter registration list.
Information from the Louisiana Secretary of State.