The Above & Beyond Award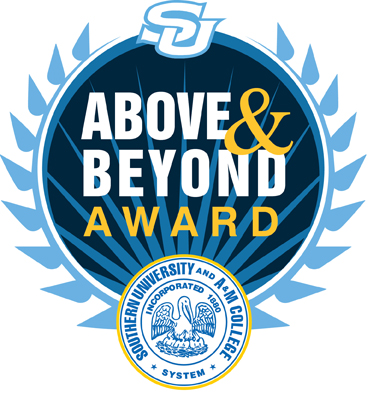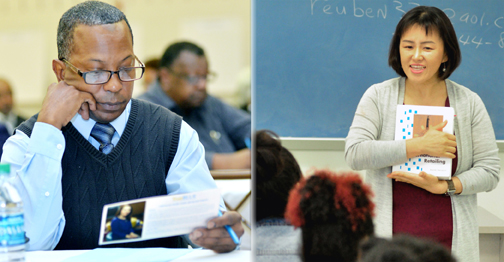 Presented by the Southern University Board of Supervisors
The "Above and Beyond" Award was established to help inspire and motivate SU employees to reach their maximum performance. One award will be presented at the SU Board of Supervisors meetings each month. This award honors outstanding achievements in the workplace, exceptional contributions toward efficiency and effectiveness of operations, special efforts in promoting workforce excellence, or outstanding service to the University community and constituents.
Recipients of the award are nominated by a committee of their peers, the top three nominations are forwarded to the Board of Supervisors chair and vice chair for selection.
Criteria for the Awards
Award recipients will be selected on the merits and strengths of the following contributions:
Dedication, cooperation and a demonstration of positive behaviors.
Outstanding achievement or contribution through creative solutions; demonstrate significant, effective and efficient operations.
Exemplary service in leadership positions (committee or professional organization officer, role/membership.
Sustained excellence in overall job performance (relative to skills, initiative and position).
Consistent demonstration of a cooperative and positive attitude.
Previous honors, awards, recognitions.
Nominations Due:
Two weeks prior to all Board of Supervisors Meetings.
(late submissions will not be accepted)

Who is eligible to receive the award?
All full-time employees of SU System campuses (SUBR, SUNO, SUSLA, SULC, SU Ag Center) are eligible for this award regardless of their job classification or other awards received. However, an employee is not eligible for the award more than once per year.

Who may nominate?
Any individual employed fulltime in any office may nominate eligible individuals, including from a campus other than their own.

Nomination Instructions:
Please carefully review the eligibility and award criteria. The intent of this award is to recognize employees who make valuable, usually behind-the-scene contributions, which are important to the successful functioning of the University. It is designed to recognize the performance of functions outside of the nominee's job description. The actions cited for this award are not a normal part of the employee's job duties.Their actions are recognized as "Above and Beyond" because they demonstrate one or more of the following:

• Solves a problem or addresses an issue at Southern University that provides outstanding
service to the customer or fellow employees.
• Creates or fosters a more productive work environment

Please limit nomination to one page and provide the following information:

1. Nominee's full name, position title, and phone number
2. Attach a copy of the nominee's current official duty requirements (per job description).
3. The nomination narrative should focus on the nominee's contributions, and the breadth and impact of those contributions. The following criteria may be used to identify examples of nominee contributions:

• Enables others to succeed by providing behind the scenes support
• Provides original, creative concepts or ideas for the office
• Exhibits initiative in identifying and meeting requirements/deadlines
• Exhibits dedication and tenacity to a project
• Exhibits a commitment to teamwork

4. Nominators name, position, and phone number.

5. Submit your confidential nomination HERE or submit nomination in a sealed envelope marked "confidential" and address it to:

Dr. Robert Rene
Above and Beyond Award Nomination
Southern University Board of Supervisors
4th Floor, J.S. Clark Administration Building
P.O. Box 10878
Baton Rouge, LA 70813

Nominations will be reviewed by the awards committee only. The winner will be announced at the Board of Supervisors monthly meetings. The winner will be contacted one week prior to the Board of Supervisors meeting so that they can make arrangements to attend the meeting to receive the award. Contact Dr. Robert Rene at robert_rene@sus.edu or call 225-771-4600, if you have questions or need additional information.