Dr. Arlanda Williams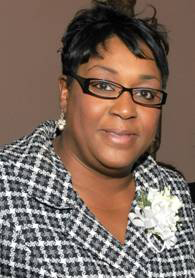 Dr. Arlanda Williams represents Louisiana's 1st Congressional District and she is vice chancellor for workforce development and institutional advancement at Delgado Community College. She is also the elected representative of District 2 on the Terrebonne Parish Council where she is serving her 3rd term. Ms. Williams was the first female elected to serve as chair of the Terrebonne Parish Council a position that she has held for three terms.
Her involvement in professional and civic organizations are numerous. She is president of the National Association of Democratic Officials, has served as 2nd Vice President of the Louisiana Democratic State Central Committee; as an executive member of the Democratic National Committee and she served as a super delegate for the 2016 Presidential election. Ms. Williams was appointed to represent local government officials on the FEMA Mitigation Leadership Group and served on Governor John Bel Edwards' transition team for the Department of Economic Development. She serves as Parliamentarian for Junior Auxiliary of Houma; Vice President of South Central Planning and Regional Development Commission; secretary of the Terrebonne General Foundation Board; treasurer of the National Organization of Black County Officials and is an executive board member of the Louisiana Police Jury Association. Dr. Williams is also a member of J.J. Clement Order of the Eastern Stars. She is an active member of Plymouth Rock Baptist Church, where she serves as chairperson of the Women's Day Committee.
Dr. Williams is a graduate of Southern University at New Orleans, having earned a Bachelor of Arts degree in Political Science and a Master's Degree in Criminal Justice. She also was awarded an Executive Master's of Public Administration from Southern University-Baton Rouge in 2014. Dr. Williams is the proud of mother of Joshua and Jeré Williams.