SU Board Meeting Schedule
2020 Meetings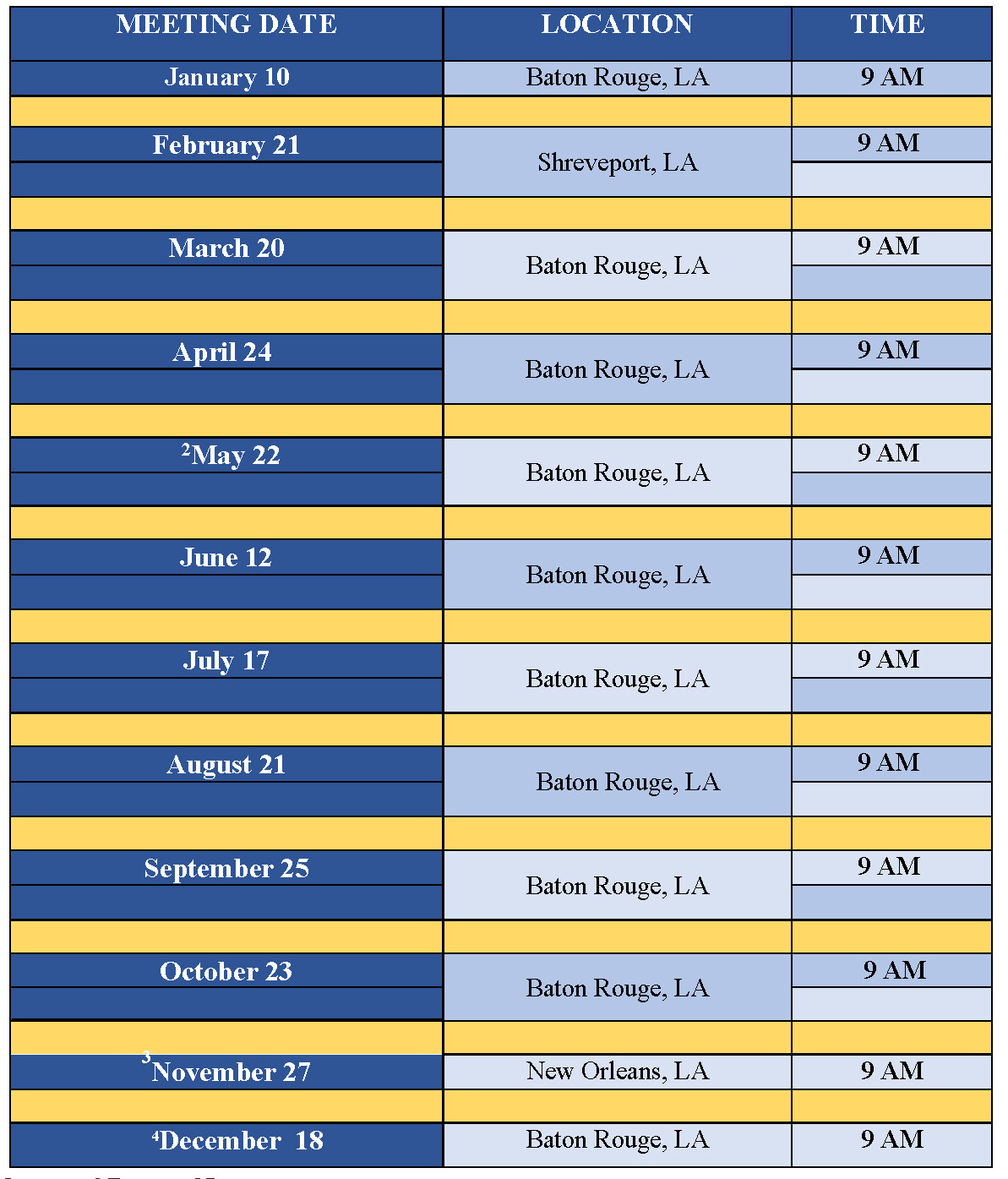 Additional Notes and Dates of Importance
1Meeting dates, times and locations are subject to change based on unforeseen
2Our Board retreat and meeting will be held at this time and hosted by Mr. Pat Magee.
3We will have a modified meeting schedule/agenda to accommodate Bayou Classic
4We will meet in December only if necessary.
Board of Supervisors Retreat
Friday, April 24, 2020
Lafayette, LA
Location: TBA
SUBR Commencement Exercises
Friday, May 15, 2020
Friday, December 11, 2020 (Tentative)
Association of Governing Boards (AGB)
National Conference on Trusteeship
April 5-7, 2020
Gaylord National Resort
Washington DC
The Board of Supervisors and Committees thereof meet monthly, ordinarily on the fourth Friday. The schedule is changed from time to time as circumstances dictate.
Meeting Locations

Southern University - Baton Rouge Campus (SUBR)
Board's Meeting Room
2nd Floor, J.S. Clark Administration Building
Southern University at New Orleans (SUNO)
6400 Press Drive
Auditorium, 1st Floor
Multi-Purpose Building
or
Bayou Classic Host Hotel (November)
Southern University at Shreveport (SUSLA)
3050 Martin Luther King, Jr. Drive
Science Lecture Hall
or
Southern University Hospitality Training Center (2nd Floor)
610 Texas Street
The Board of Supervisors' meeting are subject to Louisiana's Open Meetings Law. When required, the Board deliberates in an "executive" or closed session; however, this action can only be taken upon a 2/3 vote of the membership and by reasons cited in L.R.S. 42:6.1.
NOTICES: Video Conferencing Due to COVID-19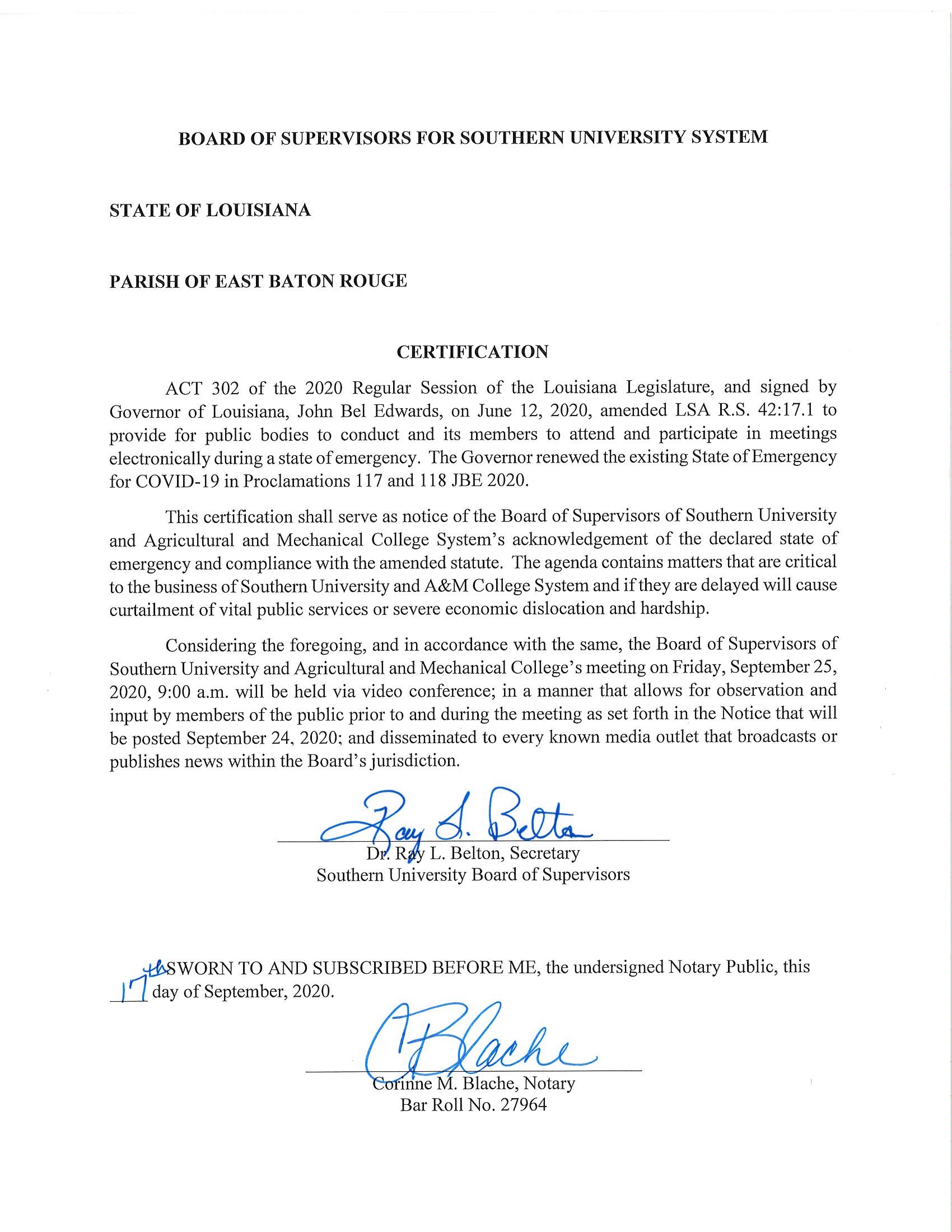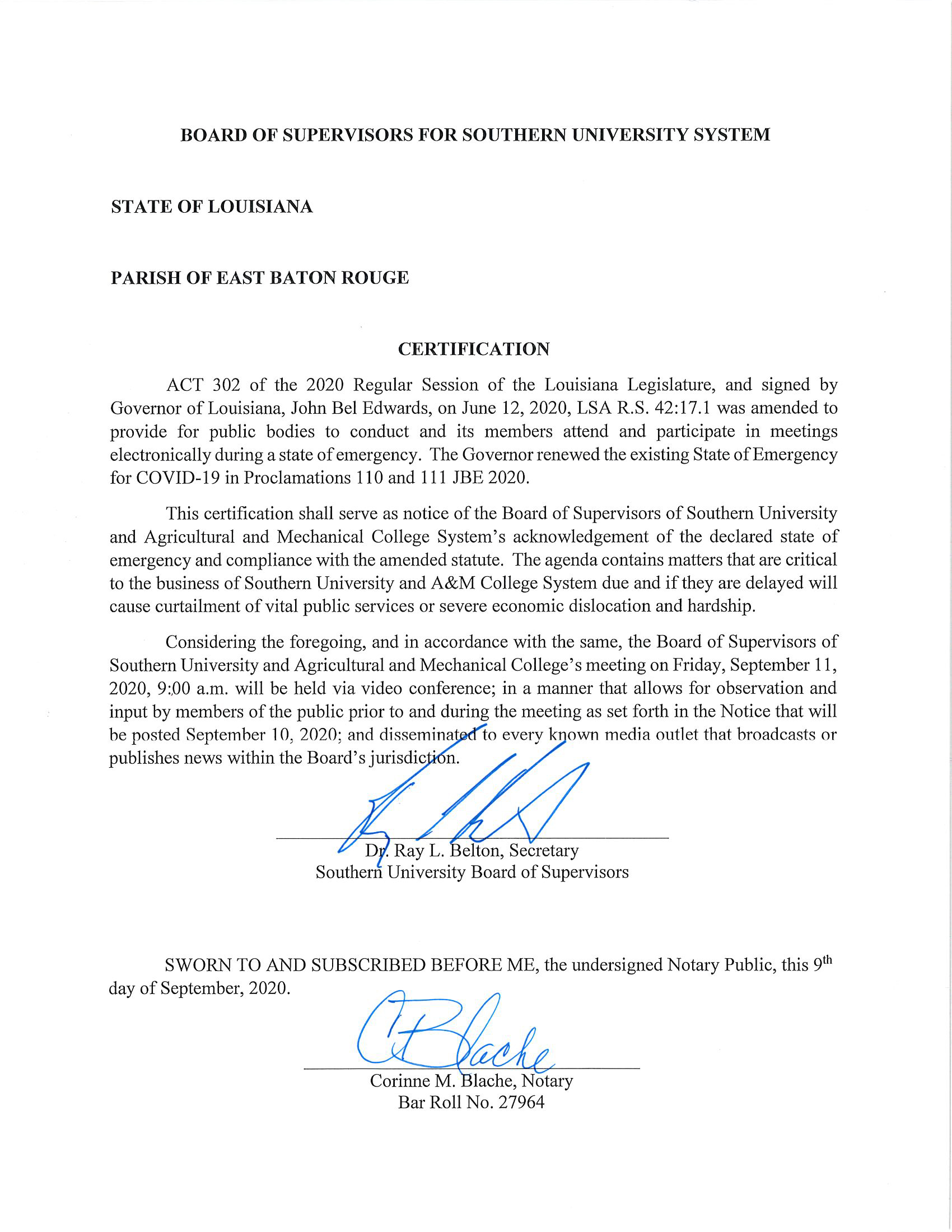 ---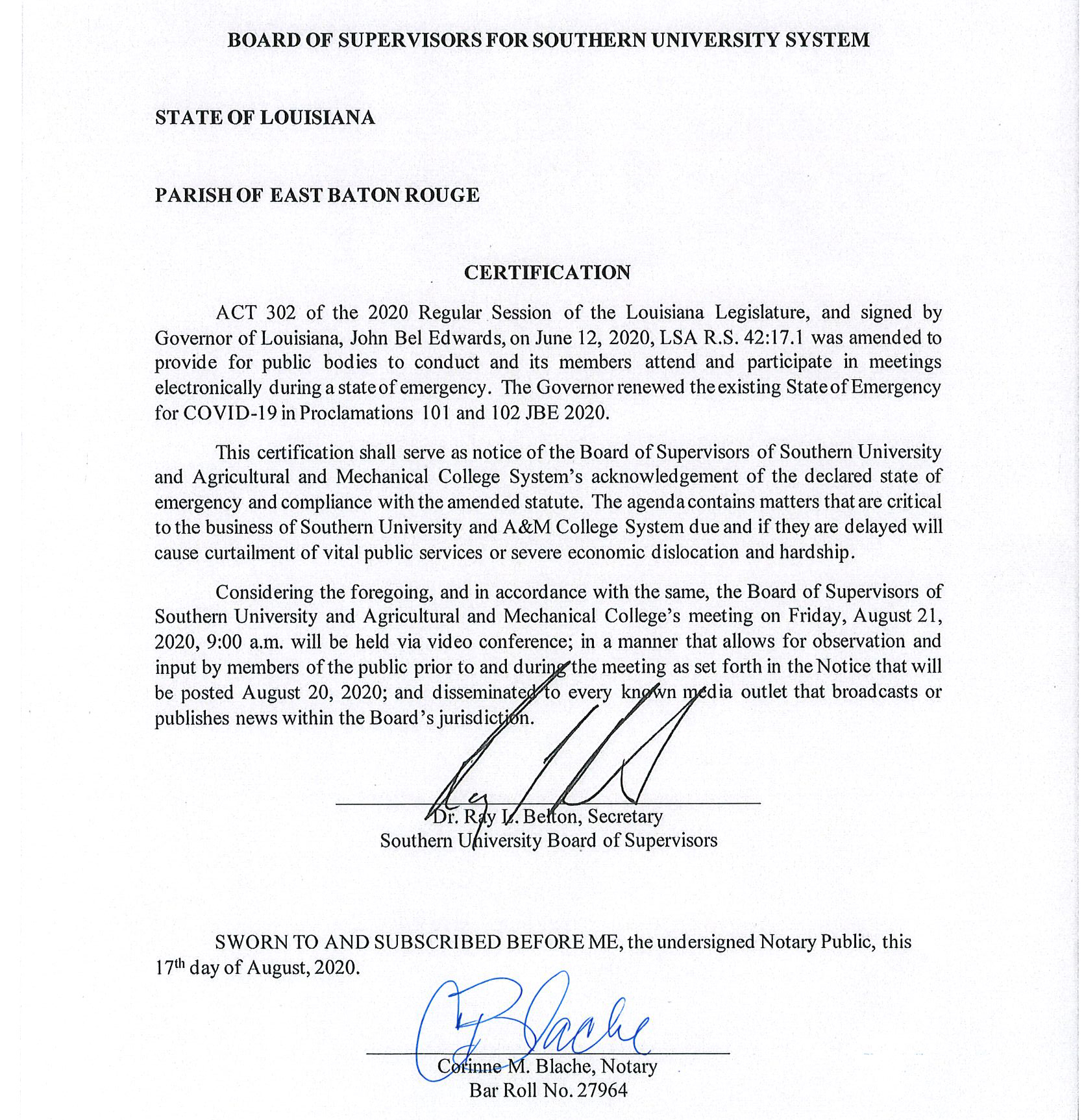 ---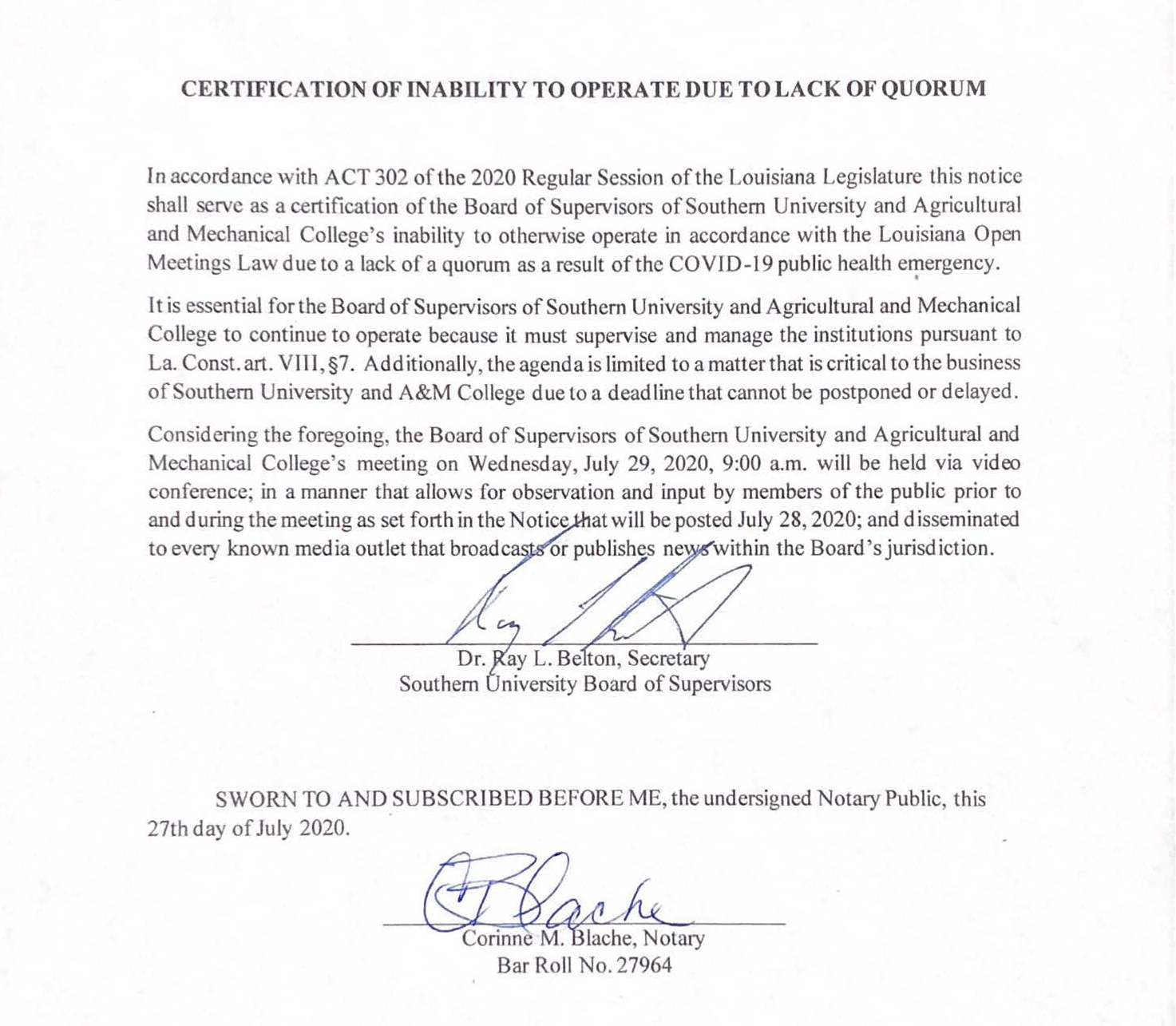 ---

---