SU Board welcomes new members, installs officers for 2013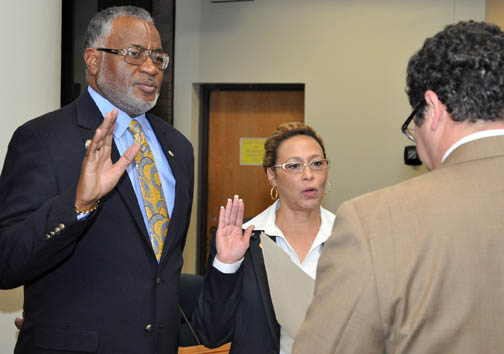 The Southern University and A&M College System Board of Supervisors Friday, January 11, 2013, installed new officers and held a swearing-in ceremony for new and reappointed members during its regular monthly meeting.
Incoming chairwoman Bridget A. Dinvaut, who was unanimously elected during the annual officers' election in November 2012, and the Rev. Joe R. Gant of Shreveport, who elected as vice chair at today's meeting, were installed as the 2013 officers for the 16-member governing board for the Southern University System.
Gant, the senior pastor of Cavalry Missionary Baptist Church, previously served on the SU Board of Supervisors for more than 12 years. He served as chairman for two years.
Taking the oath of office for the SU Board were three newly appointed members and two reappointed members named by Governor Bobby Jindal, Friday, January 5, 2013.
Joining the SU Board are Michael Small of Slidell, Leon Tarver II of Baton Rouge, and Raymond Fondel Jr. of Lake Charles. Reappointed to the Board are Gant and Antonio "Tony" Clayton of Port Allen.
Dinvaut addressed the Board stating that "She is honored by their selection of her to serve as chair to lead the Southern University Board and she welcomed new and returning members who will help to revitalize and rebuild Southern University."
During her comments after presiding over the first meeting as chairwoman of the governing board for the only historically black college and university System in America, Dinvaut said, "There have been many challenges in the past, and there will be new challenges in the future for SU. I am exited and enthusiastic about working with the Board, administration, students, alumni, and everyone to meet the new challenges. The destiny of a great legacy is in our hands and we have an obligation to preserve it for generations to come."
The Board also recognized Darren Mire for his service as chairman for the past two years and unveiled his portrait that will be placed on a wall in the Board of Supervisors Meeting Room in the J.S. Clark Administration Building.