SUS Foundation receives $83k check from ExxonMobil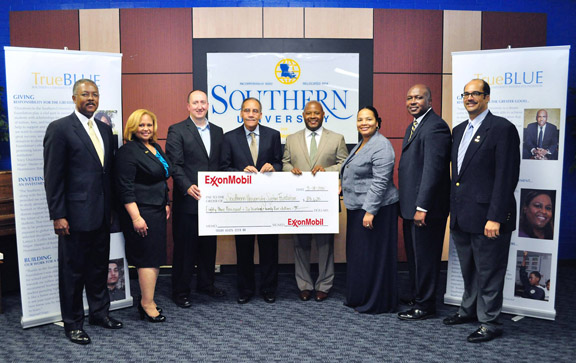 The Southern University System Foundation, Monday, May 18, 2015, received an $83,625 check from representatives of ExxonMobil's Baton Rouge refinery at a luncheon in honor of the contribution, held in the Magnolia Room on the Baton Rouge campus.
The donation is part of the Educational Matching Gift program offered by the ExxonMobil Foundation that matches employees' donations three-to-one to their university. The funding is part of an ongoing and long-term commitment to education, especially in engineering.
ExxonMobil plant manager and SU alum Cory Thompson and ExxonMobil executives presented the check to the Southern University System Foundation.
The funds will go to various programs within the Southern University System including the Foundation, College of Engineering, College of Business, and the Alumni Federation to name a few.
"The SU Foundation is appreciative to ExxonMobil Foundation and the Southern alumni who have made the contributions. The funds assist to gain future students and maintain top-notch programs on our campuses," said Philip Smith, advancement officer for the Southern University System Foundation.
Acting SU Baton Rouge chancellor Flandus McClinton said, "ExxonMobil has proven its commitment to Southern University by consistently providing funds to help our students. I value our partnership with ExxonMobil because it allows us to create new, engaging, and exciting opportunities for our students. As a result, SUBR students are prepared and trained to serve as future employees at ExxonMobil. This partnership is ultimately an investment in Southern University."
The ExxonMobil Foundation Educational Matching Gift Program provides 3:1 unrestricted, matching funds for donations to U.S. colleges and universities with which employees or retirees are affiliated. In 2013, together with its employees and retirees, ExxonMobil Corporation, its divisions and affiliates, and the Exxon Mobil Foundation provided $269 million in contributions worldwide, of which $110 million was dedicated to education, as mentioned on the Foundation's site.