SU System mourns death of president emeritus Dolores R. Spikes (Updated)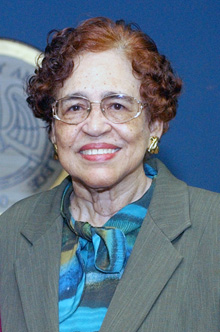 The Southern University System family is deeply saddened by the death of former SU System President Dolores Margaret Richard Spikes who passed away June 1, 2015, at age 78.
"We are profoundly saddened by the news of President Emeritus Dolores Spikes' death. She was a devout daughter of Southern University who became a trailblazing giant in higher education in Louisiana and the nation," said SU System President Ronald Mason Jr.
Spikes, in 1988, made history when she was appointed president of Southern University and A&M College System, becoming the first woman in the United States to head a university system.
"On a personal note, through her sharp intellect and strong leadership ability, she was a mentor and friend to me and others in the higher education community. Her love for education and for her beloved SU was endless. She will be sorely missed."
A SU alumna, Spikes earned her B.S. degree in mathematics in 1957 from Southern. She earned a M.S. degree in mathematics at the University of Illinois at Urbana-Champaign, and in 1971, made history by becoming the first African American to earn a Ph.D. in mathematics from Louisiana State University. Spikes also was the first female chancellor of a public university in the State of Louisiana. She served as chancellor for Southern University Baton Rouge, and Southern University New Orleans in the late 1980s.
She was appointed as a board member of Harvard University's Institute of Educational Management in 1987.
In 1994, President Bill Clinton named Spikes to his board of advisors on historically black colleges and universities. Two years later, Spikes was named vice chair of the Kellogg Commission on the Future of State and Land-Grand Universities. Later, in 1996, Spikes became the president of the University of Maryland-Eastern Shore where she served until 2001. She was SUS president emeritus.
"Dr. Dolores Margaret Richard Spikes was a shining star among the leaders of Southern University. She brought national acclaim to the University as she guided the Baton Rouge campus and the System through some of its most challenging times," said acting chancellor Flandus McClinton Jr. "She was beloved and respected by faculty, staff, students and alumni during her tenure. She will be missed, but her legacy will live on. Southern University has truly lost a giant."
The Dolores Margaret Richard Spikes Honors College at Southern University Baton Rouge is named in her honor.
"The SU Board of Supervisors extends heartfelt condolences to the family of Dr. Dolores R. Spikes and to the entire Southern University family. We honor the legacy and work of this great scholar and leader who will be forever missed," said SU Board of Supervisors chairman and former SU System president Leon R. Tarver II.
Arrangements:
Public Viewing Tuesday, June 9, 2015 1 p.m. - 5 p.m. Greenoaks Funeral Home 9595 Florida Boulevard Baton Rouge, LA 70815
Memorial Service Tuesday, June 9, 2015 6 p.m. F.G. Clark Activity Center Southern University and A&M College Baton Rouge, LA 70813
Funeral Service Wednesday, June 10, 2015 11:30 a.m. Sacred Heart Catholic Church 2250 Main Street Baton Rouge, LA 70802
Greenoaks Funeral Home, 9595 Florida Boulevard, Baton Rouge, LA 70815, 225-925-5331, is in charge of arrangements.