Southern University System, LCTCS announce Pathway Scholarship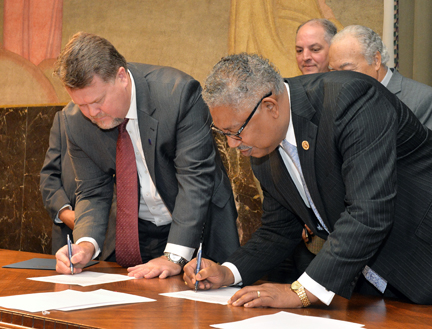 SUS President-Chancellor Ray L. Belton (right) and LCTCS President Monty Sullivan, sign a LCTCS/SUS Pathway Scholarship agreement that will provide the scholarships to active LCTCS Phi Theta Kappa graduates who meet certain guidelines, during a
press
conference
at the Louisiana State Capitol.
Pictured (left to right) are Monty Sullivan, president, LCTCS, Timothy W. Hardy, Board Chair, LCTCS, John Bel Edwards, Governor of Louisiana, Ann Smith, Chair-elect, SUS Board, Leon R. Tarver II, Chair, SUS Board, and Ray L. Belton, President-Chancellor, SUS at
press conference
at the State Capitol to announce the signing of the the LCTCS/SUS Pathway Scholarship agreement.
Agreement guarantees admission for two-year college honors students
The Southern University System (SUS) and the Louisiana Community and Technical College System (LCTCS), November 30, 2016, announced the LCTCS/SUS Pathway Scholarship, an annual transfer scholarship worth up to $1,500 annually for active Phi Theta Kappa (PTK) Honor Society student members who wish to transfer to either Southern University Baton Rouge (SUBR) or Southern University New Orleans (SUNO) upon completion of an associate's degree at an LCTCS college. Students who meet the LCTCS/SUS Pathway Scholarship Transfer guidelines will be guaranteed admission to SUBR or SUNO after completing an application to the college.
The announcement was made during a signing ceremony at the Louisiana State Capitol with Governor John Bel Edwards, SUS President Ray Belton, SUS Board of Supervisors Chairman Leon R. Tarver II, LCTCS President Monty Sullivan, and LCTCS Board of Supervisors Chairman Tim Hardy. SUS will provide the scholarships to active PTK graduates who meet certain guidelines on a first-come, first-served basis until available funds are committed.
"I am very proud that we have reached this point on our relationship between two outstanding systems of Louisiana higher education to approach being able to do something as innovative as creative, as highly imaginative that will benefit the students of all of our institutions," said Tarver.
Last academic year (2015-2016), LCTCS had more than 15,800 students transfer to public and private four year institutions across the country. Of that number, 747 students transferred to either SUBR or SUNO.
"We are indeed excited to partner with LCTCS to establish this meaningful agreement that gives promising LCTCS students the privilege and support to pursue further study to earn a bachelor's degree at Southern University," said Belton. "Southern University wholeheartedly welcomes these high-achieving transfer students and remains committed to our mission of providing access and opportunity for all our students."
Students who are PTK graduates can receive the annual scholarship, contingent on the availability of funds, renewable for up to one year, to SUBR or SUNO upon meeting the following criteria:
•
Student must have completed an associate's degree no earlier than Fall 2015,
•
Student must be active PTK member at the time of graduation,
•
Student must have completed a FASFA,
•
Student must have applied to SUBR or SUNO,
•
Student must enroll full-time at SUBR or SUNO the semester following their completion of an associate's
degree,
•
Student must maintain full-time enrollment (for scholarship renewal), and
•
Student must be in good academic standing while enrolled at SUBR or SUNO (for renewal).
LCTCS and SUS are committed to providing more transfer opportunities to those Louisiana citizens who want to pursue a bachelor's degree after completion of an associate's degree at an LCTCS college. LCTCS and SUS seek to remove economic obstacles that prevent students who are active PTK Honor Society members from transferring to SUBR or SUNO upon completion of an associate's degree.
"Today's announcement is one of the most important transfer agreements in our state's history," Sullivan. "Like ours, the Southern University mission is critical to Louisiana's success. This pathway scholarship ensures that our best and brightest will have a seamless onramp to Southern University.
Regardless of where you attend college in our system, you can achieve the dream of attending Southern University. Thanks to Chairman Tarver, the Southern University System Board of Supervisors, and Dr. Ray Belton for recognizing the value of transfer students and working with us to provide this tremendous opportunity."
The LCTCS/SUS Pathway Scholarship formally recognizes that through increased transfer opportunities, the LCTCS and SUS are collaboratively providing more ways than ever before for students to pursue their higher education dreams. The LCTCS/SUS Pathway Scholarship will assist the LCTCS in quadrupling transfer students, a goal of Our Louisiana 2020, and will assist SUS in recruiting exceptional academic students, a goal of "A Pathway Forward."
The mission of PTK is to recognize and encourage the academic achievement of two-year college students and provide opportunities for individual growth and development through participation in honors, leadership, service and fellowship programming.
This website uses cookies to ensure site visitors get the best experience on our website. By continuing to use this site, you accept our use of cookies and Privacy Statement. To find out more, please visit Southern University's Privacy Statement.