SU System campuses accepting donations for Hurricane Harvey Relief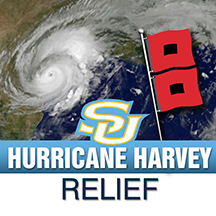 The Jaguar Nation extends prayers and well wishes for SU students, alumni, and all residents affected by Hurricane Harvey.
As thousands in Texas and Louisiana continue the process of recovery and rebuilding, Southern University stands ready to do its part in relief efforts.
Donations of non-perishable food items, clothing, personal hygiene products, infant care items, bottled water, and cleaning supplies were collected at SU campuses in Baton Rouge, New Orleans, and Shreveport, and shipped to areas affected by Hurricane Harvey.
Additionally, alumni, friends, and stakeholders may help with this humanitarian relief effort by making contributions to a special 2017 Texas Flood Fund established by the SU System Foundation to accept donations that will go directly to support victims of the devastating flooding in Texas and Southwest Louisiana as a result of Hurricane Harvey. Click here to make a contribution.
Thank you for your support!