Everybody's Right Hand' employee receives SUS Board 'Above and Beyond' Award -- Board recognizes teaching excellence award winner, Nobel Prize contributor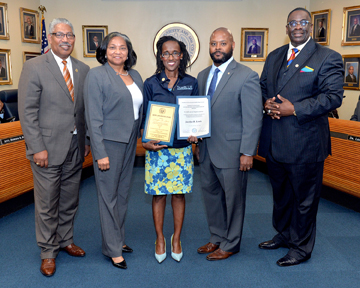 Southern University employee Jocelyn Lewis was honored with the October 2017 "Above and Beyond" Award during the SU Board of Supervisors regular monthly meeting, October 20, on the Baton Rouge campus.
Described by co-workers and others as "a ray of sunshine who is everybody's right hand," Lewis is a longtime employee in the SU System Foundation Office.
"She seems to have boundless energy, a positive attitude, and always has a smile," said SU System Foundation CEO Al Harrell.
Harrell describes Lewis, who serves as his executive assistant, as an invaluable employee whose has an exceptional work ethic and can-do disposition.
"No matter what the task, large or small, Joycelyn always delivers," said Harell. "She's a model employee."
A New Orleans native who grew up in Baton Rouge, Lewis began working part-time at SU in the Foundation Office in 1995. The petite mother of six says she loves working at SU and is a die-hard Jaguar fan. She enjoys spending time with her grandchildren and attending services and working at her church.
"I would like to say thank you, and I don't take this opportunity lightly," said Lewis. "I work hard because I work as unto the Lord, because I know that my final reward will be from him."
The "Above and Beyond" Award was established to help inspire and motivate SU employees to reach their maximum performance. One award is presented at the SU Board of Supervisors meetings each month.
Recipients of the award are nominated by their peers. The top three nominations are forwarded to the Board of Supervisors chair and vice chair for selection.
Pictured (left-right): SU System President-Chancellor Ray Belton, SU Board of Supervisors Chair Ann A. Smith, Horace Mann Award for Teaching Excellence recipient Tia Mills, SU Board of Supervisor Academic Affairs Committee Chair Curman Gaines, and Rev. Donald R. Henry, SU Board of Supervisors Vice Chair. The Board recognized Tia T. Mills, a two-time graduate of Southern University, who recently received the Horace Mann Award for Teaching Excellence. Mills spent 11 years in the classroom and the past five years as president of the East Baton Rouge Parish Association of Educators (EBRPAE), the local affiliate of the National Education Association (NEA).
The award is based on her advocacy work on behalf of the union, as well as her classroom work at Eden Park Academy of Ethics and Excellence, an alternative school for elementary age children in Baton Rouge.
The SU alumna is one of five educators nationwide to receive the honor. All winners are working teachers and NEA members. She heads to Washington, DC in February 2018, to receive her award and a $10,000 check. One of the five educators will be selected for the NEA Member Benefits Award for Teaching Excellence, the unions top teaching award, which comes with another $25,000.
Horace Mann, a financial services and insurance company that has many educators as clients, sponsors the award. Mann was a pioneering Massachusetts educator and politician who is considered a founding father of public education in the United States.
Mills received her bachelor of arts (history) and master of arts (social science concentration history) degrees
in addition to her alternative certification (special education) from Southern University and A & M College in 2004, 2005, and 2010 respectively. She later obtained her doctorate of education degree from the Fischler College of Education at Nova Southeastern University in 2014.
Pictured:
SU physics professor Stephen McGuire addresses SU Board of Supervisors, October 20, 2017, after being recognized as a contributor the 2017 Nobel Prize in Physics. Also recognized during the October SU Board of Supervisors was SU physics professor Stephen C. McGuire who was a contributor to the 2017 Nobel Prize in Physics. The Royal Swedish Academy of Sciences, October 3, announced the Nobel Prize in Physics 2017 to Rainer Weiss (LIGO/Virgo Collaboration), Barry C. Barish (LIGO/Virgo Collaboration), and Kip S. Thorne (LIGO/Virgo Collaboration), "for decisive contributions to the LIGO detector and the observation of gravitational waves."
The prize rewards not just Kip, Rai, and Barry but also a large number of dedicated scientists and engineers who worked over the past decades to make LIGO a reality. McGuire, the Southern University principal investigator to the LIGO Scientific Collaboration (LSC), is one of those scientists.
This website uses cookies to ensure site visitors get the best experience on our website. By continuing to use this site, you accept our use of cookies and Privacy Statement. To find out more, please visit Southern University's Privacy Statement.