SU Board elects officers for 2018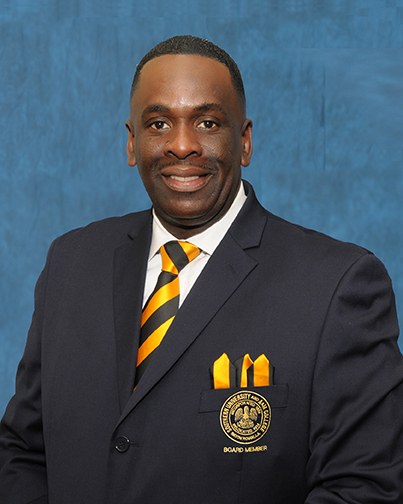 Ann A. Smith
Donald R. Henry
The Southern University Board of Supervisors today re-elected Ann A. Smith as chair, and Donald R. Henry as vice chair for 2018, during its regular meeting held in New Orleans.
The SU Board of Supervisors chair represents the 1st Congressional District. Smith is a retired school educator and administrator in Tangipahoa Parish, member of the Louisiana School Board Association, and former member of the Tangipahoa Parish School Board.
Smith is community leader, retired educator, accomplished coach, and education advocate focused on advancing the educational attainment and economic future of under-represented men, women, boys, and girls across the state of Louisiana.
Smith earned a master's and a bachelor's degree from Southern University and A & M College, and a master's +30 from Southeastern Louisiana University.
She serves as chairman of the Louisiana Office of Student Financial Assistance (LOSFA) Committe, is currently a member of the North Oaks Foundation Board, Life Member of the Southern University Alumni Federation, Silver Life Member of the National Association for the Advancement of Colored People (NAACP), and member of the Tangipahoa Parish Democratic Committee. She has previously served as chair of the Louisiana High School Executive Committee (District VI), president of the Kentwood Rotary Club, and vice president of the Advisory Council to the Louisiana State Board of Education. Smith is a past member of the governing boards of Lallie Kemp Foundation, Tangipahoa Parish Visitors and Convention Bureau, and the Southeastern Louisiana University Alumni Association.
Henry represents the 2nd Congressional District. Henry is executive director of the Lafourche Basin Levee District Board of Commissioners, and co-owner of DRH Consulting Group, LLC in Gramercy. He is the first African American to be named executive director since the creation of the Commission in 1892.
The Board of Supervisors of Southern University and Agricultural and Mechanical College serves to manage and supervise the Southern University System.
Also, during the November Board meeting, Southern University admissions recruiter Robert Rene' and longtime SU supporter Carl Glenn Ellis Gant were honored with "Above and Beyond" Awards.
Pictured (left -right):
SU Board of Supervisors Vice Chair Donald R. Henry, SU Board of Supervisors Chair Ann A. Smith, November 2017 "Above and Beyond" Award recipient Carl Glenn Ellis Gant, and SU System President-Chancellor Ray L. Belton. The November 2017 award was presented to Carl Gant, wife of SU Board member Rev. Joe R. Gant of Shreveport.
Carl Gant, a 1972 SUBR graduate, is a retired Caddo Parish educator, and a former assistant professor at SU Shreveport.
"Today, we recognize her for her service to the students of Southern University," said Rev. Gant. "She lives to serve. Helping feed band members and the football team."
Carl Gant is the first lady of the Calvary Missionary Baptist Church in Shreveport where her husband is the pastor.
SU Board Chair Ann Smith recognized the November recipient as well. "SU appreciates your diligence and for caring for our students," said Smith.
Pictured (left -right):
System President-Chancellor Ray L. Belton, SU Board of Supervisors Chair Ann A. Smith, December 2017 "Above and Beyond" Award recipient Robert L. Rene', and SU Board of Supervisors Vice Chair Donald R. Henry. . A long-time SU Baton Rouge employee and former assistant mass communications professor was presented the December 2017 "Above and Beyond" Award.
Rene' also has served as interim director and associate director of the Office of Recruitment and Admissions. Rene' worked in television news before serving at Southern University.
In his current role, the December "Above and Beyond" Award winner meets with students, parents, principals, counselors, and alumni to guide students' academic futures.
He recently participated in the fall 2017 California Community College Transfer to HBCUs Caravan that took place October 31 -November 8. The caravan began in Northern California Sacramento area and concluded nine days later in the Southern California -- Long Beach area.
"Dr. Robert Rene' was such an asset to this year's caravan. He brought such a wisdom and calm to the caravan. I am personally appreciative of his flexibility and support during the entire trip," said Helen P. Young, project director, California Community Colleges Transfer Guarantee Agreement to Historically Black Colleges & Universities.
"I humbly accept this award for the service I enjoy doing," said Rene'.
The "Above and Beyond" Award was established to help inspire and motivate SU employees to reach their maximum performance. One award is presented at the SU Board of Supervisors meetings each month.
Recipients of the award are nominated by their peers. Nominations are forwarded to the Board of Supervisors chair and vice chair for selection.
Pictured (left – right) SU Board of Supervisors Chair Ann A. Smith, SU System President Ray L. Belton, former SU head baseball coach Roger Cador, SU Board of Supervisors Athletics Committee Chair Atty. Tony Clayton, and SU Board of Supervisors member
Raymond Fondel Jr. The Southern University Board of Supervisors last month approved the baseball clubhouse to be renamed the Cador Baseball Operations Center in honor of Roger Cador, who stepped down as long-time head baseball coach earlier this year.
Today, the Board formally recognized Cador and named him head baseball coach emeritus.
In other action the Board also approved a reorganization plan for the SU System and SU Baton Rouge, and recognized former SU Law Center Chancellor Freddie Pitcher as chancellor emeritus.
This website uses cookies to ensure site visitors get the best experience on our website. By continuing to use this site, you accept our use of cookies and Privacy Statement. To find out more, please visit Southern University's Privacy Statement.