SU welcomes $1.6 million from private gift, and corporate grant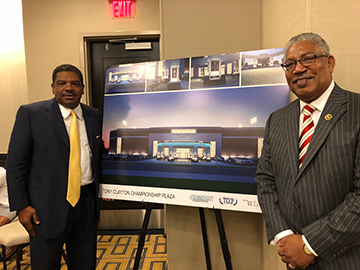 SU alumnus and SU Board of Supervisors member Antonio "Tony" Clayton (left) and SU System President Ray L. Belton pose with a rendering of Clayton Championship Plaza to be constructed in front of the A.W. Mumford Fieldhouse on the Baton Rouge campus. Clayton donated $1.1 million to fund the plaza project and to support athletic programming, the marching band, and the music department. In addition to an anticipated gridiron victory in the 44th Bayou Classic, Southern University wins $1.6 million in support including a $1.1 million major gift from alumnus Antonio "Tony" Clayton and a $500,000 grant from Capital One, both presented during the SU System Board of Supervisors meeting today in New Orleans.
With his recent gift, Clayton, a member of the SUS Board of Supervisors and a longtime SU supporter, will fund the construction of "Clayton Championship Plaza," and establish an endowed chair, that will support athletic programming, and benefit the marching band and music department.
"The Clayton Championship Plaza gives us something to be proud about. This permanent legacy separates us and puts on another level of greatness. We appreciate it very much," said director of Athletics Roman Banks.
The Capital One Community Impact Grant is a one-time gift designed to help recipients execute on critical parts of their long-term strategic plan. Southern University has been a longtime partner of Capital One and will be awarded a $500,000 grant to help the University closely align its curriculum to current and future high skilled jobs, provide faculty externships with corporate partners, as well as support STEM (science, technology, engineering and math) camps for low income PreK-12 students.
"Capital One has been a friend and corporate partner to SU for a number of years. The company has been steadfast in its commitment to higher education and their appreciation for the value that Southern University brings to Louisiana and the rest of the world," said SU System President-Chancellor Ray L. Belton. "This gift really demonstrates Capital One's commitment to SU over the years."
The grant will focus on key areas throughout the SU System including student services development and workforce training; summer outreach programs and recruitment to provide pre-collegiate students with early exposure to college disciplines, especially in STEM and engage more prospective students; curriculum enhancement to align curriculum with workforce needs based on Louisiana 4-5 star jobs report; faculty professional development; and provide an opportunity to broaden participation of underrepresented groups in the energy workforce through an energy training consortium.
This website uses cookies to ensure site visitors get the best experience on our website. By continuing to use this site, you accept our use of cookies and Privacy Statement. To find out more, please visit Southern University's Privacy Statement.