SU Fall commencement speaker says she was 'pushed into her purpose'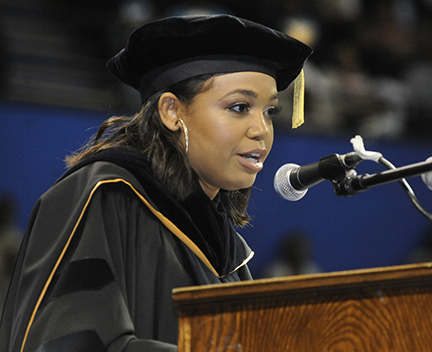 SU Law Center alumna Faith Jenkins, star of her own TV show, "Judge Faith," was the commencement speaker for the 2017 Fall Commencement Exercises at Southern University, Friday, December 15, in the F.G. Clark Activity Center.
Southern University System President-Chancellor Ray L. Belton (right) and SU System Board of Supervisors Chair Ann A. Smith (left) honor SU Fall 2017 Commencement speaker Faith Jenkins, a SU Law Center alumna and star of television's "Judge Faith," Friday, December 15, in the F.G. Clark Activity Center. Faith Jenkins, who graduated top of her class from the Southern University Law Center (SULC), and is star of her own TV show, "Judge Faith," was the commencement speaker for the 2017 Fall Commencement Exercises at Southern University, Friday, December 15, in the F.G. Clark Activity Center.
More than 500 candidates received degrees.
Jenkins graduated with a bachelor's degree in political science from Louisiana Tech University, and a J.D. from the Southern University Law Center in 2003.
A Louisiana native, her first job out of law school was in New York City. As a litigator at Sidley Austin - one of the most prestigious law firms in the country - she helped represent numerous high-profile clients in a diverse array of complex, commercial litigation matters.
Many may know Jenkins from her extensive legal analysis of the nation's most high profile cases on Fox News, CNN, HLN & MSNBC. Jenkins currently stars in her own show, "Judge Faith," a nationally televised court TV show now entering its fourth season.
After five years as a Wall Street litigator, Jenkins joined the Manhattan District Attorney's office as a criminal prosecutor. After the Manhattan DA's Office, she transitioned back into private practice with a New York litigation firm specializing in resolving business disputes, white-collar defense and government investigations, as well as other civil and criminal matters.
Prior to moving to New York, Jenkins served as Miss Louisiana 2000. The Shreveport native went on to place first runner up to Miss America 2001.
A trailblazing alum, Jenkins said to the SU grads, "Now you will become a part of the long line of Southern University graduates who will go out into the world with the spirit of achievement and special responsibility. So celebrate and have a sense of achievement but just know this is just the beginning." "The race is not over."
Reflecting on her college career and being faced with life choices, the former beauty queen said, "It's been almost 20 years since I sat where you're sitting, and here I am today living a life that far exceeds my wildest dreams, hopes, and expectations."
In her personal and open address to the fall 2017 class, Jenkins shared, "I didn't get here because I didn't make mistakes, or because I got it right all the time." "I am here today because I was pushed into my purpose."
The former prosecutor told a story from her time as an undergraduate student when she turned a failed job opportunity into her making history as the first African-American to win the title of Miss Louisiana Tech, which led to her becoming Miss Louisiana, and ultimately to compete and become first runner up in the Miss America Pageant.
"Over the course of three years I won over $100,000 in scholarship money," said Jenkins. "I was being pushed into my purpose and didn't even realize it."
"When you're going through your journey a closed door is not necessarily a bad thing. Some of your best successes will come after your greatest disappointment," she said.
Biology major Jalen Wagner of Geismar led the 2017 Southern University fall graduates as the chief student marshal during the fall commencement exercises, December 15, in the F.G. Clark Activity Center. The fall 2017 chief student marshal was
Jalen Wagner
, with a cumulative grade point average of 3.842. He is biology major from Geismar.
At eight-years-old, Wagner experienced the tragic loss of his maternal grandfather due to a heart attack. From then on, he vowed to make sure heart disease does not take another grandfather or family member, by committing himself to becoming a cardiologist. The top grad plans on applying for admission to medical school at Baylor University, Louisiana State University, and Meharry Medical College.
The SUBR fall class includes 333 undergraduate degree candidates and 169 candidates for graduate degrees. The class has 81 honor graduates (three magna cum laude, 12 cum laude, and 66 honorable mention).
The spring graduates represent 45 Louisiana parishes, 18 states and territories, and 11countries. The oldest candidate is 65 and the youngest is 21.
The University awarded posthumous degrees to former students, Debra Fountain, Ph.D. degree in public policy, and Cynthia Legro Howard bachelor's of arts degree in education.
This website uses cookies to ensure site visitors get the best experience on our website. By continuing to use this site, you accept our use of cookies and Privacy Statement. To find out more, please visit Southern University's Privacy Statement.