Southern University System Board installs chair, vice chair; approves several key hires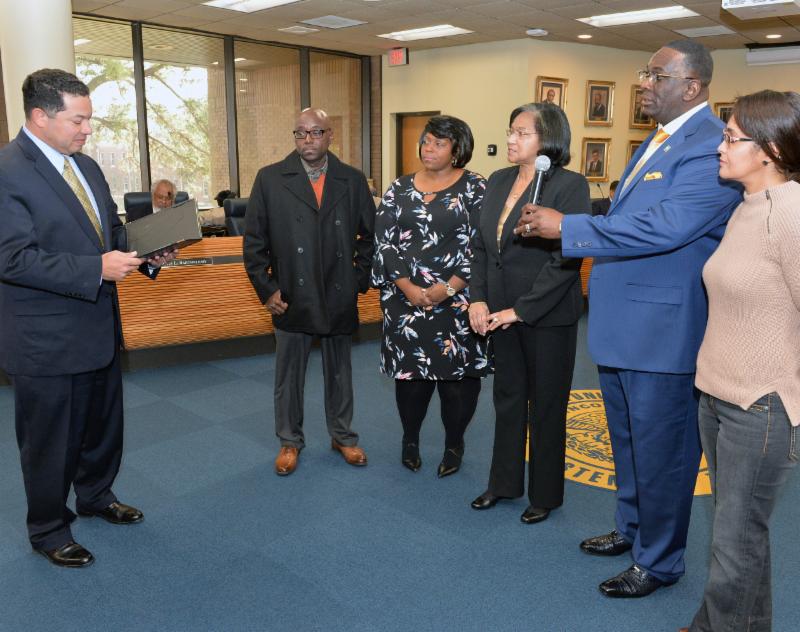 Today, Southern University Board of Supervisors Chair Ann A. Smith and Vice Chair Donald R. Henry were officially installed during the Board's monthly meeting. Both were re-elected at the November 2017 meeting in New Orleans.
"We are here to do what's best for our students. We are here for our Southern University," Smith said as she expressed her gratitude to the Board.
Among other Board actions taken was the approval to hire James Ammons to the position of executive vice president for the Southern University System and executive vice chancellor for the Baton Rouge campus.
"Dr. Ammons has distinguished himself in a number of roles at various universities and increased enrollment," System President Ray Belton said. "We anticipate much from him."
Ammons, who previously served as president of Florida Agricultural and Mechanical College, expressed his excitement to join the Southern University family.
"I am looking forward to helping make this System all that we know it can be. There is so much potential," said Ammons during his comments to the board. "We have so much to work with. With all of us working together as a team, I know we can be successful."
Other personnel action included: Vladimir A. Appeaning, vice president for strategic planning, policy and institutional effectiveness (SUS); Luria Young, senior associate vice chancellor for the Office of Academic Affairs (SUBR); Robyn Merrick, vice president for external affairs (SUS); Katara Williams, chief of staff (SUS); LaShonda Stirgus, chief finance officer and senior women's administrator for the Department of Athletics (SUBR); Ruth Johnson, director of the Educational Talent Search Program (SUNO); Edwards Page Reynolds, chief of police (SUSLA); Ada Womack, interim director of the Louisiana Small Business Development Center (SUBR).
Special recognitions included the presentation of the Southern University Law Center Marshall-Brennan Regional High School Moot Court Competition Championship trophy to Southern University Laboratory High School. The Southern University System Above and Beyond employee award was presented to Spencer Carter, traffic field supervisor with the SUBR Police Department.