Board of Supervisors approves key personnel decisions; new online academic programs announced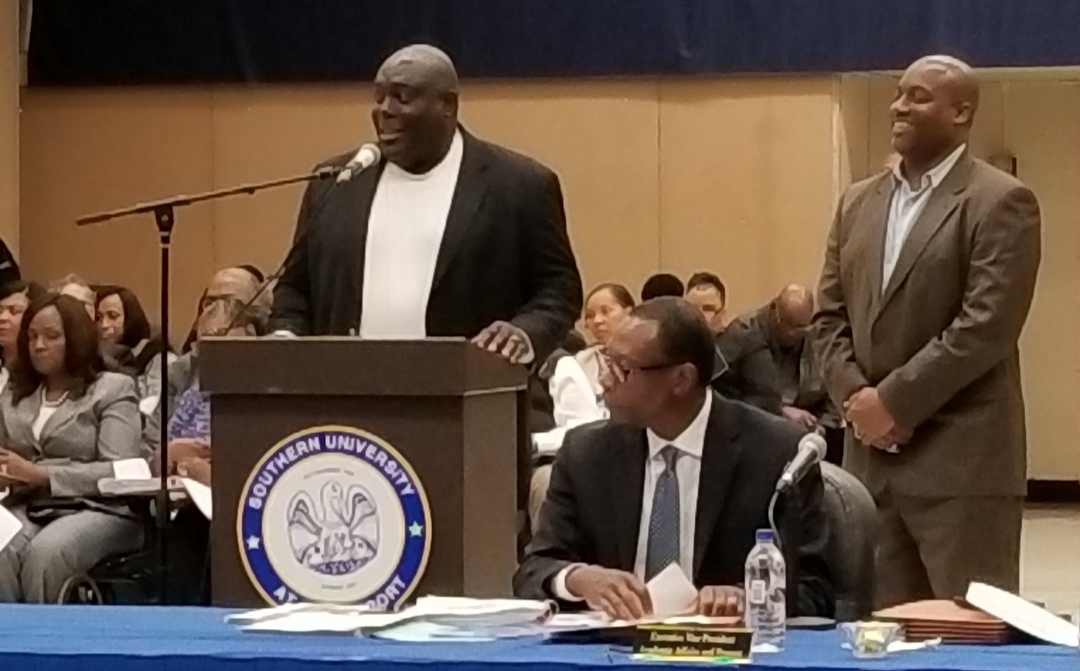 The Southern University System Board of Supervisors today held committee meetings and full board meeting on Feb. 21-22 at Southern University Shreveport. In one of its first actions, the Board approved the extension of the contract of Dawson Odums, head football coach at Southern University Baton Rouge. The extension is for three more years with a salary of $210,000. According to Roman Banks, athletic director, Odums is now in the top five earners amongst coaches in the Southwestern Athletic Conference.
Other personnel action included the hiring of Kedric Taylor as director of bands at Southern University Baton Rouge. Taylor, also a professor of music at Southern previously served as interim director since spring 2017. Also, C. Reuben Walker was appointed interim chancellor-dean of the Southern University Agricultural Research and Extension Center/College of Agricultural, Family and Consumer Sciences. He most recently served associate vice chancellor for strategic initiatives, auxiliary services and external affairs for the Center and College, and is a professor of animal sciences.
Representatives from the Baton Rouge, Shreveport and New Orleans campuses gave updates on dual enrollment and online programs. Several Caddo Parish high school students gave testimonials on their positive experiences with the dual enrollment program at Southern University Shreveport. One student said the program "opened his eyes to a college experience" he never thought he would be able to have.
New online programs were announced for the Baton Rouge campus, including Master of Business Administration and Master of Science in cybersecurity. Both will be available this fall.
The Southern University Police Department from the Baton Rouge campus gave an update on several items, including:
All officers are now equipped with bodycams.
Three police cars were donated to the department's motor pool.
New emergency "pull stations" were installed to replace non-functioning call boxes.
More license plate readers will be installed around campus to improve security.
Two Southern University at New Orleans students, Stacy Ann Williams and Twayne Crooks finished first in the women's and men's 400 meters at the KMS Invitational 2019 Jan. 27 in Birmingham, AL
Southern University Law Center alumna Yodit Tewolde has been tapped to fill Court TV's fourth and final anchor position, joining Vinnie Politan, Seema Iyer and Julie Grant at the network desk. Tewode is currently associate judge for the city of Dallas, Texas, and has also served as assistant district attorney in the Dallas County DA's office for several years. She founded and is currently managing her own law firm.
Above and Beyond Award
The Board's Above and Beyond award was presented to Lt. Jeffery Ivey of the Southern University Shreveport Police Department. Ivey has been a member of the police department for 15 years.
According to the nomination submitted by his colleagues, Ivey is "reliable, dependable, friendly, and loves SUSLA." He began as a police officer and has been a lieutenant for the past seven years. Prior to working at the Shreveport campus, Ivey worked in the Detective Division of the Caddo Sheriff's Office for 12 years.
Ivey can often be found assisting other departments to ensure not only the safety of the campus, but optimum customer service, student success and community involvement. Examples of this include, but are not limited to speaking with and assisting students, orientation/Jaguar Courtyard, working with facilities, campus events, traffic and shuttles for guests, and working with local law enforcement. In the 2018 Family Campaign, Ivey and his co-chair led their team to receive the "Trailblazer Award" as the first team to reach 100 percent in giving to support the campus. He will again serve as co-chair of the campaign this year.
Ivey and his wife have four children and seven grandchildren. In addition to his dedication to his workplace, he is deeply involved in his church and community.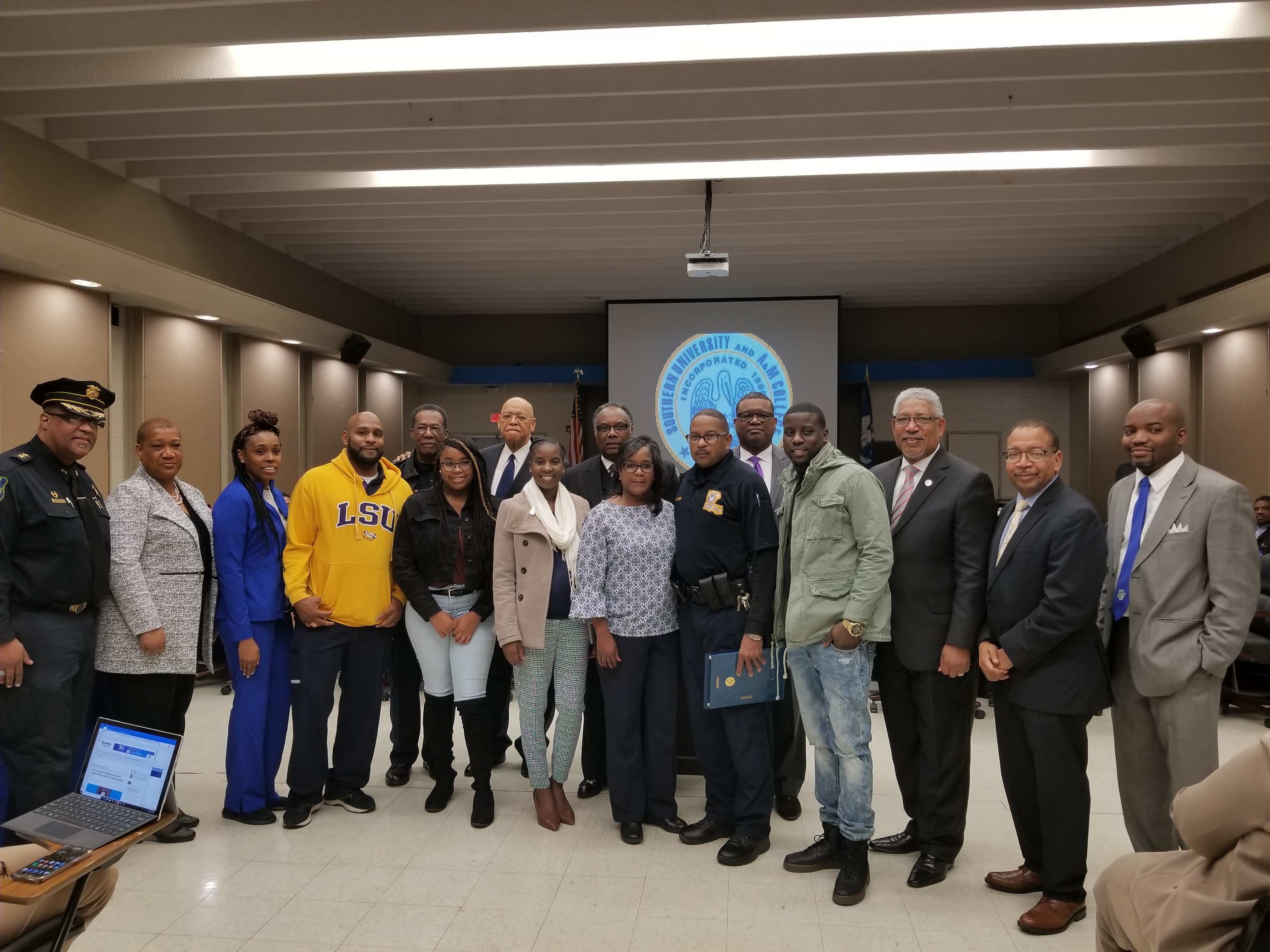 Lt. Jeffery Ivey (middle) pictured with friends, family, colleagues, and administrators.