Southern University System Board approves Centers of Excellence in cybersecurity, federal procurement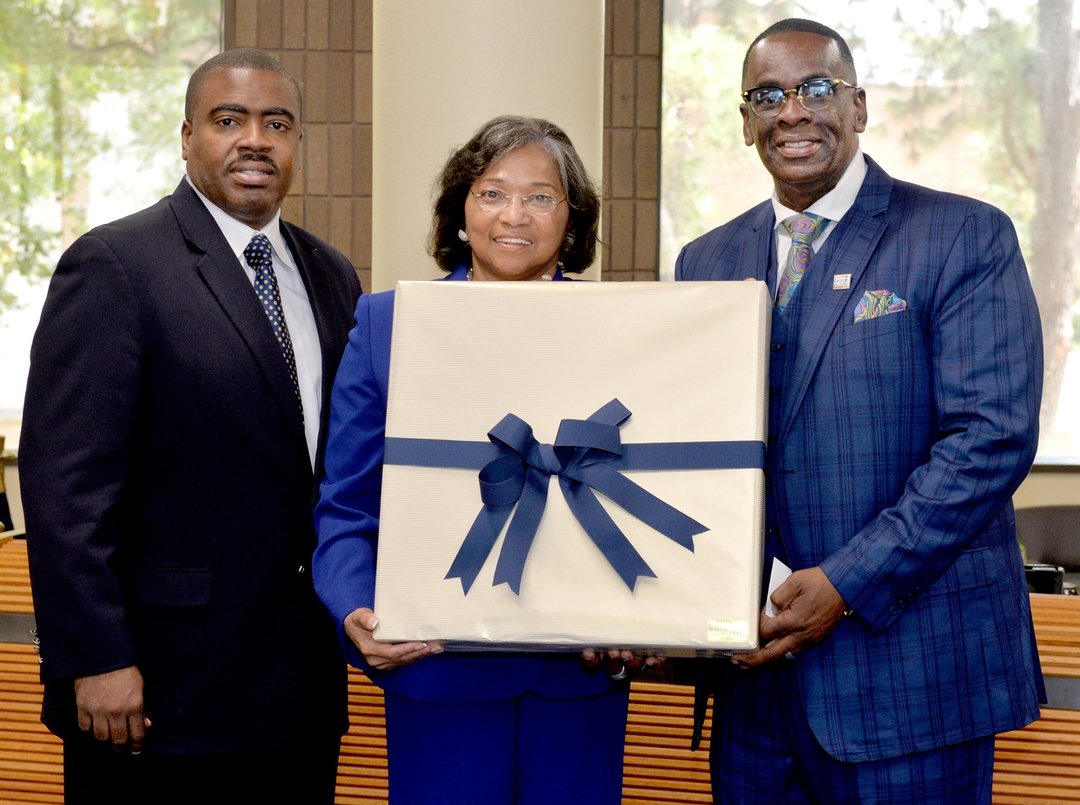 The Southern University System Board of Supervisors today approved a memorandum of understanding to develop two Centers of Excellence — one in cybersecurity training and certification, and one in federal procurement services. The MOU is between the Southern University System and the Southern University Foundation Enterprise partners to develop, operate and manage the two programs under the Southern University Center for Corporate Strategy Solutions, or SUCCESS.
"To say that we are excited to begin this process is an understatement," said Ray L. Belton, president of the Southern University System and chancellor of Southern University Baton Rouge.
Among the team members presenting information about the projects was retired Lt. Gen. Joe Ballard, a Southern University Baton Rouge alumnus and consultant.
"This decision today has started Southern on a unique journey," said retired Lt. Gen. Joe Ballard, who was also the first black Chief of Engineers for the U.S. Army.
The centers will not only serve as brain trusts for external entities, but will also enhance student success and create more streams of revenue for the five-campus university system.
The Board also approved a new tuition discount for Louisiana residents over the age of 55 who enroll at the Southern University Law Center. While a tuition discount program is not unprecedented for the Law Center, it has been revisited to bring provide not only accessibility and affordability to students, but also avoids a significant cost loss to the institution. The discount will be $3,000 per semester.
"This student population (age 55 and older) is consistently growing," said John Pierre, chancellor of the Law Center. "These students are often seasoned professionals, and they bring another level of experience and connections to their younger peers. They add to the richness to the Law Center and the Southern University System."
The Board was also presented information about high school dual enrollment from the five campuses — Southern University Baton Rouge, Southern University New Orleans, Southern University Shreveport, Southern University Law Center and Southern University Ag Center. All campuses reported increased interest and efforts on their campuses, including cross-training student affairs and enrollment staffs to better engage with high school juniors and seniors.
Honors
Robert Lawrence and was chosen by the Board as an "Above and Beyond" awardee. Lawrence has worked as a custodian at Southern Baton Rouge at different intervals, once in 1959 before he entered the military. He returned to work at Southern in 2000. Robbins is a longtime employee with the Southern University Office of Student International Affairs and University Outreach.
"Southern is no new place to me," Lawrence said. "I first set foot on campus over 73 years ago, and I love what I do and the people I work with. As long as I can, I will keep moving."
Rosa Robbins, an administrative assistant and study abroad officer, was also honored for her services.
"She exemplifies an essence of professionalism," said Barbara Carpenter, her supervisor in the Office of International Affairs and University Outreach.
A surprise presentation occurred at the end of the meeting, with Board members and administration honoring Ann Smith, outgoing Board chairwoman.
Thank you for your dedication, time and love for Southern," Belton said. "Thank you for loving this Board and for loving Southern University."
Smith, a Southern University Baton Rouge alumna, represents the 5th Congressional District. A retired educator and administrator in Tangipahoa Parish, she is member of the Louisiana School Board Association and former member of the Tangipahoa Parish School Board, District A. She has served two terms as chairwoman of the Southern University System Board of Supervisors.
"I am truly a Southernite, and I especially appreciate working with this group," Smith said. "It has been an amazing experience (as chair)."
The Board will hold its last meeting of the year on Nov. 23 in New Orleans.