Southern University System Board holds April meeting virtually amid COVID-19 pandemic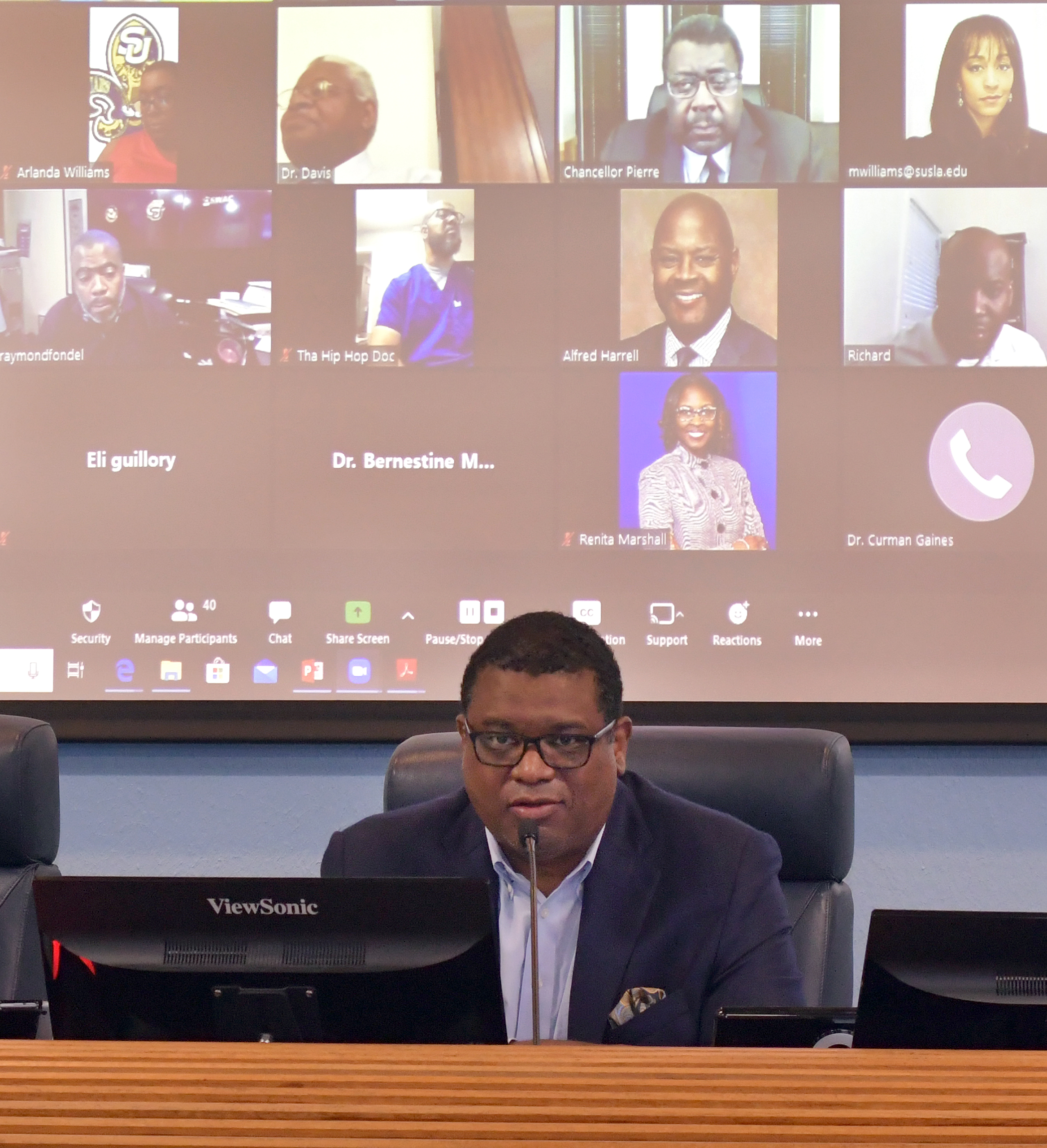 Southern University System Board holds April meeting virtually amid COVID-19 pandemic
Amid the COVID-19 global pandemic, the Southern University Board of Supervisors elected to hold its April meeting virtually on Friday, April 24.
Three new dean appointments at Southern University Baton Rouge were approved:
Karen Crosby, dean of the Dolores Margaret Richard Spikes Honors College; Dawn Kight dean of Libraries, and Muhammad M. Rahman, dean of the Graduate School. For more information on these appointments and other personnel actions, click here.
The Board also approved several academic items, including resolutions for conferring degrees for the 2020 Spring Semester at Southern University Baton Rouge, Southern University at New Orleans, Southern University Shreveport and Southern University Law Center. All campuses have previously decided to postpone their respective spring commencement ceremonies until the summer. In May, all campuses will participate in a national virtual celebration presented by the Thurgood Marshall College Fund. In regard to governance, the Board approved the COVID-19 Special Grading Policies for all campuses.
Other academic items included:
Established the David Raines Endowed First-Generation Undergraduate Scholarship Fund in Nursing and Allied Health, SUSLA
Appointed Dr. Fitzgerald Spencer as Professor Emeritus in the College of Sciences and Engineering, SUBR
Approved the renaming of the Bachelor of General Studies Program to the Bachelor of Interdisciplinary Studies Program, SUNO
Approved the Letter of Intent to develop an online degree program in Hospitality and Food Industry Leadership, SUBR
Approved Endowed Professorship appointments, SULC
Approved Tenure and Promotion recommendations, SUNO
Approved Promotion of Associate Professor to Full Professor for Prentice White, SULC
Approved the revised Mission statement, SUNO
Approved the MOU between California Community Colleges Chancellor's Office and Southern University at New Orleans, SUNO
Several finance items were approved, including:
Approved fees for online graduate certificate in Supply Chain Management, SUBR
Approved the action plan for the distribution of emergency student funds provided by the CARES Act, SUBR/SUNO/SUSLA
Approved the adjusted fee schedule for online session for Summer 2020, SUBR
Approved iPad fees for incoming first-year Law students, SULC
The Board received informational items on:
Pathway to Legal Education Options for the City of Shreveport, SULC
Interim Financial Reports, System
COVID-19, System
Louisiana Health Equity Taskforce, System
Legislative Update, System
For the full Board agenda and supporting items, click here. To view the recorded meeting, click here.