Southern University System Board of Supervisors hold August meeting in Shreveport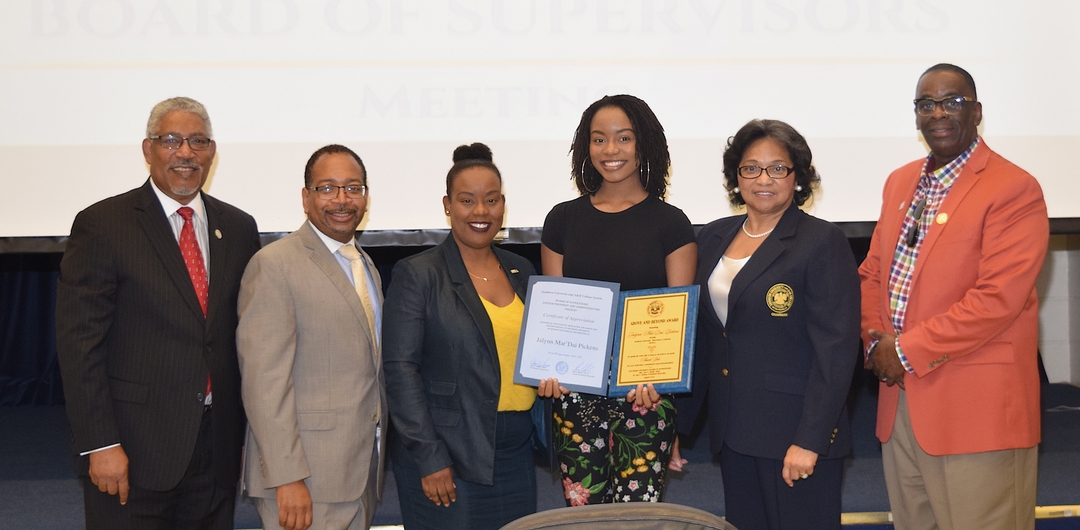 The Southern University System Board of Supervisors met on the campus of Southern University Shreveport for its August meeting. The Board received updates from each of the five campuses — Southern University Baton Rouge, Southern University New Orleans, Southern University Shreveport, Southern University Law Center and Southern University Ag Center. Topics included enrollment, marketing efforts and infrastructure.
Board member and attorney Patrick Magee presented a resolution to District Attorney James Stewart, the first black person elected to the position Caddo Parish. Stewart welcomed Board members to the city and expressed his thanks for the recognition.
The Board's Above and Beyond Award for this month went to Jaylnn Pickens, daughter of Joslin Pickens, a professor at Southern Shreveport. Jaylnn, a high school student, has volunteered in various offices across the campus and has initiated several service projects with the University's participation. One of her most recent projects was a clothing drive for homeless children.
Per Joslin Pickens, Jaylnn's mother:
"After meeting a classmate that was experiencing homelessness, she was compelled to do something to affect so many teens that suffer in silence. Even as a child raised in a single-parent home, sometimes experiencing her own struggles, she sought to help those that had even less. Jalynn found that jeans were the perfect item to donate as they could be worn multiple times between washes and provide a sense of normalcy. Soon enough her initiative, 'Jalynn's Jeans for Teens' created much-needed awareness about the issue of youth homelessness, and sparked partnerships with Caddo Parish Schools and Southern University Shreveport."
Chancellor Rodney Ellis (Southern Shreveport) praised Jaylnn for her hard work and dedication to the people in her community.
"Joslin exemplifies and embodies the vision we want to portray here at Southern," Ellis said.
Other highlights of the meeting included:

Announcement that three Southern students — two from the Law Center and one from the Baton Rouge campus — were selected by the White House Initiative on Historically Black Colleges and Universities as 2018 HBCU Competitiveness Scholars, the Initiative's highest student recognition.
Southern Baton Rouge and Southern New Orleans were both featured in Diverse Issues in Higher Education for being top producers of black college graduates.
The Louisiana Board of Regents approved 15 online programs for Southern Shreveport.